Camp Labrca
THE MUNICIPALITY OF TOLMIN ACCEPT A NEW DECREE AT THE BEGINNING OF JULY - IN THE MIDDLE OF THE TOURIST SEASON WHICH PREVENTS US FURTHER OPERATION OF THE CAMP LABRCA AFTER THREE YEARS OF OPERATION. THIS IS THE REASON WHY WE DON'T ACCEPTING NEW RESERVATIONS FOR THIS YEAR.
WE HOPE THAT COMMON SENSE WILL RULE IN THE FUTURE AND THE LABRCA CAMP WILL BE ABLE TO OPERATE IN THE FUTURE AGAIN.
WE SINCERELY APOLOGIZE TO ALL GUESTS WHO ARE STAYING DISAPPOINTED IN FRONT OF OUR DOOR BECAUSE WE CAN NOT ACCEPT THEM.
Camp Labrca is located in the beautiful surroundings next to the River Soča. The camp is open from 1 April to 30 September. Other dates are available by prior arrangement.
If you don't have a tent, you can rent one for a fee. The tents accommodate two persons and come with an inflatable mattress and a sleeping bag.
Guests of the camp can take advantage of a special offer and choose between bed and breakfast, half-board or full-board.
We expect our guests to respect nature. Fires are strictly forbidden in the campsite.
Advance booking is required. Upon arrival, you have to sign an application form at the Maya agency reception.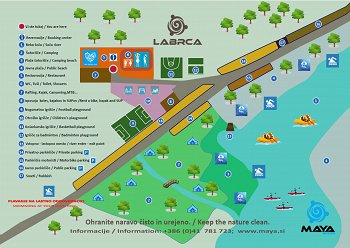 The price includes the use of a tent pitch, showers and toilets, washing sinks, free internet and parking. You can charge your phone at one of the outlets in the office.
NOTE:
We do not accept campervans, trailers and other vehicles for overnight stays, as we do not meet the requirements under Slovenian law. However, we can recommend CAMP SIBER, which is located just 1 km away and offers these services.
---